Network Engineers
Mitchells Online are network engineers covering Woking, Surrey and Hampshire. We specialise in the installation and maintenance of small to medium scale ethernet data networks,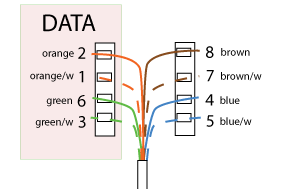 Cat5e and Cat6, structured cabling for integrated data and phone connections.
You may not have a network, or already have a network that just needs updating, extending, repairing or tuning.
We're specialists in Microsoft Active Directory so can design a network domain from scratch or troubleshoot an existing one.
Network Designers
As you may have gathered from our web site, we're not just a data network cabling company, we are network designers and IT consultants.
We can arrange for a visit to your place to take a look and recommend the architecture of your network and how it connects to the internet, which areas are best served by WiFi and even how to create office to office links.
Once we've done that we go back to our office and design your network on our graphic system. We then provide you with a fixed-price quotation and agree a date for the works to be carried-out.
Network Installers
On the agreed day, our technicians will carry-out the agreed work, quickly, effiently and with the minimum possible disruption.
The last step is for us to test each and every cable we've worked-on to ensure all connections are complete and working.
Of course you don't pay us for our work until its completed to your satifaction.
We'll be on-hand to quickly assist with any teething problems.